RESTRICTED AREA
• Select your country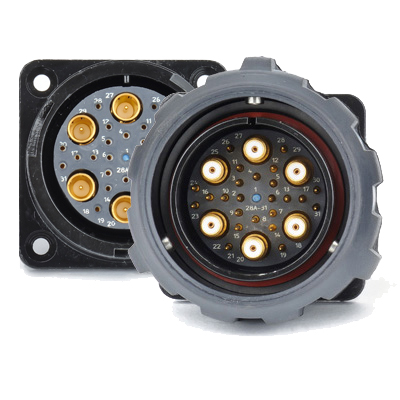 SV Audio/Video connectors,
cable & stage box.


A "bunch" of new ideas for your business.
A series of groundbreaking products ideal for broadcasting and HD video engineering.




Syntax®, no compromise.

Audio/Video distribution

Combined multipin connector input, 8 audio lines XLR + 6 BNC video lines

Steel stage box for audio and video signal distribution. Audio and video signals conveyed through the exclusive SYNTAX SV 25/6 multipin audio/video combo connector and XLR and BNC connections.
Male input version (photo 1) - Female input version (photo 2)



FRAME
Steel stage box with trapezoidal section and high mechanical resistance sides, painted in polyepoxidic anti-scratch black paint. Output connectors on the leaning sides guarantee easy channel identification whan connecting. Channel numbering by indelible laser-carving is also provided. 4 nylon feet sustain the base, ensuring stability and the necessary ground-detachment. On the side opposite to the multipin connector, three holes have been specifically designed for vertical hooking.
INPUT
Signal distribution is obtained through the exclusive Syntax multipin connector (male or female), with 24 gold-plated pins for audio signal and 6 gold-plated pins for 75 Ohm video signal . Protection cap is provided.

DISTRIBUTION
audio connection through 8 XLR panel (female or male) 3-pin connectors, arranged in two lines of 4, one per each side. Video connection through 6 BNC panel connector s arranged in two lines of 3, one per each side, with earth connection detached from the frame.

INTERNAL CONNECTIONS
The audio interconnection between multipin connector and XLR connectors is arranged through a shielded balanced cable, made of 2 signal conductors, 1 drain wire and aluminium foil screen. The multipin connector cabling is attained through crimping, while the XLR connector cabling through soldering.
The video interconnection between the multipin connector and BNC connectors is carried out through RG59 75 Ohm double-shielded cable, made of a one-signal conductor, a copper tinned braid shield and an aluminium foil screen. Video channel cabling is carried out through crimping to guarantee a good mechanical resistance and a steady impedance, avoiding signal loss.

More info
Other info
• Compliant with military standard Mil C 5015 & VG 95234.
• Aluminium alloy shells with high resistance black finish.
• Audible, visual and tactile indication of locking. 2000 mating cycles minimum.
• Ergonomic rubber covered locking ring for easy coupling.
• Bayonet lock with stainless steel ring.
• Gold plated machined contacts for quality signal transmission and long term reliability
• Insert manufactured with a high insulating chloroprene rubber: allowing easy contact
insertion and removal during assembling and repairing.
• Cable gland retention system, ensures waterproof sealing and good strain relief
at the cable entry.
• IP 67 waterproof (when mated) for outdoor applications.
• IP67 waterproof protection caps when mated to the connectors.
Attachment
Options
Printable version
SYNTAX by VALENTINI
Via Asti 84/A - 10098 Rivoli (TO) - ITALY
TEL.+39 0119594160
FAX +39 0119594166
info@syntaxnet.it
P.IVA 02571550017