RESTRICTED AREA
•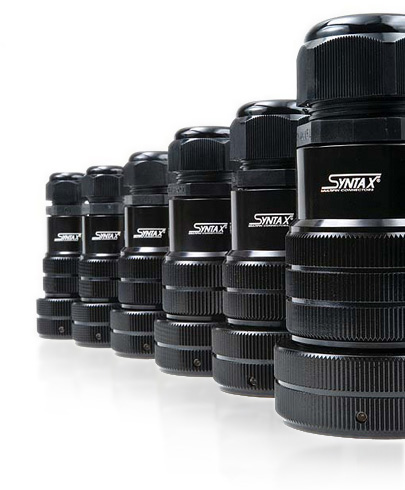 SVK & SVS
Audio series
A synthesis for perfect balance.


The SVK & SVS are our professional audio multipin connectors. Well proportioned, easy to handle, extremely functional.
And, of course, good-looking.
Syntax®, connect to innovation



SVK series

Panel and inline versions available

The new SYNTAX® SVK and SVS audio series have been conceived and manufactured to set a higher standard for studio applications. Its IP67 waterproof rating makes it perfectly suitable also for outdoor applications. SVK audio and SVS Slim High Density series are compliant with Mil C 5015 & VG 95234 military standards. Compared to the previous version, the new SVK has been enhanced to achieve a higher level of strength and durability. Many of its features have been borrowed from the bigger SHD Roadline series, such as thicker backshell and locking ring. The locking ring also presents deeper knurling for the maximum ease of coupling and coupling roller pins. As in the SHD series, the locking ring is designed to prevent possible ovalization of the insert due to accidental blows. Protective caps are available.

Our protective caps are provided with special high-resistance lacing made up of seven stainless strands, covered by anti-scratch Teflon black tubing.
To meet even the most demanding requirements, SVK audio series is available in several configurations: 13, 19, 25, 37, 54, 85, 100 and 150 pins.

More info
Other info
• Aluminium alloy shells finished in black for high shock-resistance.
• Lock-up recognition system guaranteed for over 2000 mate and demate cycles.
• Ergonomic grip or rubber-covered locking ring for easy coupling, even
with gloved hands
• Bayonet lock protected by stainless steel ring.
• Gold or silver-plated machined contacts for quality signal path and long term reliability
• Insert manufactured in a high insulating chloroprene rubber: allowing easy contact insertion
and removal, during assembly or repair.
• Cable gland retention system (spiral anti flex version available), ensures water tight sealing
and good strain relief at the cable entry.
• IP 67 grade waterproof (when mated) for outdoor applications.
• Protection dust caps waterproof IP67 grade when mated with the connectors.
Attachment
Options
Printable version
SYNTAX by VALENTINI
Via Asti 84/A - 10098 Rivoli (TO) - ITALY
TEL.+39 0119594160
FAX +39 0119594166
info@syntaxnet.it
P.IVA IT02571550017

Privacy and terms of use